From Only € 2.75 P.M. with Free Domain Name
Ready to start your blog? just search for your domain in the red box!
Blogging is one of the most popular ways of expressing yourself on the Internet today. People blog about everything from their hobbies to their business and other interests.
The biggest mistake a lot of people make is that they go with free hosting services and create content for those free blogging services instead of investing a small amount of money in their own blog and owning content that they can move from one server to the other without losing their search engine rankings.
You can also use WordPress to create your own website for your business using one of the many free or paid WordPress Themes available.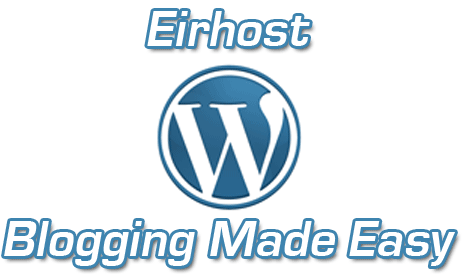 To set up your blog with Eirhost Blog Hosting Ireland you can either register your domain name or if you have an existing domain you wish to use you can order your hosting here. If you would like more information please contact us.
There are many advantages of hosting  With Eirhost Blog Hosting Ireland
It Gives you a more professional Appearance
You have more control over the design
You Get an easy to remember url (web address)
You can move your blog easily from one hosting provider to another
Brand Promotion
More Traffic
You can integrate it with your existing site instead of having a separate blog
More Control
A free wordpress.com blog comes with a limited amount of themes & Plugins.
If you host your blog with Eirhost WordPress Hosting Ireland you can choose from a huge amount of themes & Plugins.
All blog hosting packages from EirHost Blog Hosting Ireland come with a simple install system that will allow you to install your self hosted WordPress blog and be ready to go with just a few clicks of your mouse.
To set up your blog now just register the domain name you would like to use for your blog and order it with hosting, your account will be set up as soon as your order is received. If you have an existing domain you wish to use you can order your blog hosting here. If you would like more information please contact us.
Steps to Running a Successful Blog
Blogs can be an extremely marketable and extremely rewarding tool if utilised correctly. Profiting from blog sites is simply a matter of grabbing the attention of an audience and not doing any real selling. I
Specific niche
A specific niche is a targeted product, service, or subject. You ought to first decide on an item, service, or subject which interest you. Select an area which you can enthusiastically blog about every day.
It does NOT matter if your topic is popular as long as there is a audience for your subject and the topic is exactly focused then your blog should achieve success. Anything can be considered a niche as long as it has a target audience no matter how large or how little the audience is. A blog site about your cat can be a specific niche or a blog about the types of the feline family can be a bigger specific niche market, if thereis anyone on the net who is interested in becoming aware of your cat or the types of the cat family … you can even choose to build your audience for a market which an audience does not exist, however first you need to build your blog site.
Update Your Blog Daily (absolutely nothing less).
This step is a should and not a tip. Constantly updating your blog site daily with quality content not only keeps your blog more fascinating to readers, but it also provides your blog fresh content on a day to day making it more attractive to Google. Not adding new content to your blog on an occasionally  or one day here and there would not be a probmen, however missing days at a time or weeks is undesirable and will most likely result in your blog site being not successful.
Images
Graphics can often bring your blog to life. Obviously, the material of the blog site is the most crucial aspect and you do not want to overshadow your material with graphics, however showing graphics can include a little spice to the blog site. Be selective about your graphics and ensure they fit your entry subject. You must include material with the graphic, a minimum of a caption. Original graphics, images, pictures, and art is suggested.
If you are not talented with Photoshop, you can use free image libraries such as Pixabay.
Make your Blog Personal.
A blog site is most successful when it is kept personal. Attempt to consist of individual experiences which relates to the topic of your blog site entry. Keep away from the business design of writing. Write with a more personal design and usage first-person stories. Do not compose any of your entries as sales letters, instead share product reviews and personal endeavors.
Communicate With Your Visitors.
You now have the traffic you should have. You ought to begin engaging with your visitors. Develop a routine style such as: "Monday Motivation" or "News of the Week" which lures your readers to eagerly anticipate every week.
Give your readers advance notice about a product, service, or subject which you are going to review then talk about later. If the President was arranged to offer a speech then in your blog you ought to specify that you "will talk about the speech and offer your opinion after the speech airs. Remarks will be appreciated".
Try your hardest to find unique details that not many have. Do not reveal any private or secret information which is deemed unlawful or can potentially get you into trouble, however attempt to get the scoop prior to everyone else does.
Make Money.
As soon as your blog site has gained some genuine momentum and your blog site traffic is increasing then it is time to start thinking of turning your traffic into revenue. You need to utilize contextual marketing, like Google AdSense. Contextual marketing is usually text links which use the content of your blog to release targeted ads on your blog site. The payout is normally based on a pay-per-click design, suggesting for ever click an ad gets you are paid a small portion of the profits.
Another way to make loan with your blog site is through affiliate offers such as Amazon or Clickbank.com.
Where to start?
Start with a reliable WordPress blogging platform.
You can sign up here with a free domain.Just enter the domain name you want and we will register it for you Free when you order your blog hosting.